SHEIKH MAJED AL SABAH VISIT
21st February 2017, Sheikh Majed Al-Sabah visited several sites of our Line 3.
Sheikh Majed Al-Sabah is one of the most influential personalities in Social Media in the Arab World. He is one of the most followed people on Snapchat, in Kuwait his videos can reach more than 1 million viewers.
Majed Al-Sabah with his Snapchat sheds the light on few things that are interesting, humorous and positive. His success is due from the sharing of information, he is positive, he doesn't touch religion and politics arguments and his private life is off limit!
External link:
– http://www.majedalsabah.com/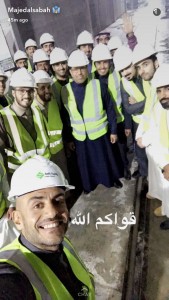 [foogallery id="6502″]