MONTHLY HSE BEST PERFORMANCE STATION – March 2017
CWG Management decided to introduce the HSE Best Site Award as incentive scheme to promote and encourage a proactive safety culture across the project.
On a monthly basis, one station from each area (West, UG and East) will be selected and awarded as the best Site across the line in terms of Health, Safety and Environment.
THE WINNERS OF THE CWG SAFETY LEAGUE FOR THE MONTH OF
MARCH 2017
We are glad to announce the Winners of the CWG Safety League for the month of March 2017:
WEST AREA: Pocket Track
UG AREA: 3E2
EAST AREA: 3H1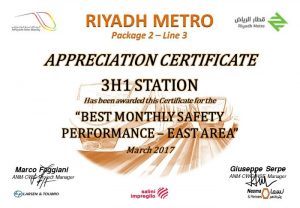 This is a purely HSE competition to be understood and considered as part of the continuous improvement in terms of Health, Safety and Environment standards.
You might also like:
MONTHLY HSE BEST PERFORMANCE STATION – February 2017